Is your driver's license expiring soon? If you don't know how to renew your license because you heard the new policy on LTO license renewal, then you are at the right place to read.
These days, you can opt to renew your driver's license (not more than two years expired) or apply for a student permit at any LTO Driver's License Renewal Office.
But what exactly do you have to do before going to the nearest LTO DLRO branch?
Here's everything you need to know.
1st Step: Create an LTMS account online.
First, you need an LTMS or Land Transportation Management System account, which allows you to manage your LTO transactions online.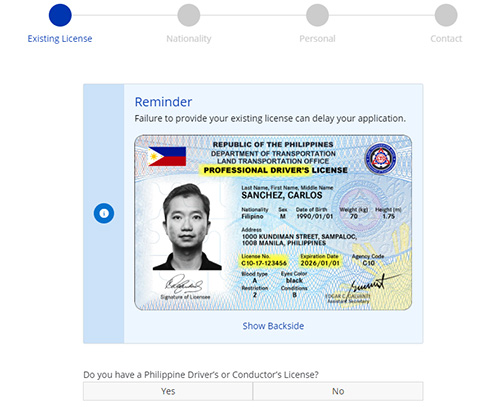 To create one, go to https://portal.lto.gov.ph/. Click the Register Now button, read and accept the Terms and Conditions, and fill out the security code to go to the next section. Select Enroll as an Individual and fill out the following details:
Old driver's license
Official receipt number
Citizenship
Personal details
Contact details
After registering, wait for an e-mail containing the verification link. Click the verification link and set a password for your account. You will use this password every time you log into your account.
2nd Step: Accomplish the CDE Online Validation Exam
The Comprehensive Driver's Education or CDE Exam is required to ensure that only qualified applicants with acceptable driving and road safety know-how will have their license renewed. The good news? You can take the exam at home for your own convenience.
Log into your LTMS account
Select the E-learning button
Click on the CDE online validation exam
Accomplish the exam.
After passing the exam, print out the certificate.
3rd Step: Prepare your documents and go to your preferred branch
Before going to an LTO DLRO branch, make sure you bring the required documents.
If you need to revise your records, such as civil status or address, you will need to prepare additional documents. Check the necessary documents on the LTO website.
Once your documents are ready, go to your preferred LTO DLRO branch.
4th Step: Obtain and accomplish your medical evaluation form
Once you arrive at your preferred branch, proceed to the LTO DLRO desk to obtain your medical evaluation form and fill out your personal details. Go to the designated clinic for your medical evaluation, pay the medical fee, and wait for your turn. The medical examiner will be the one to fill out your details (height, weight, and eye vision) in your driver's medical evaluation form.
After your medical evaluation, proceed to the LTO DLRO desk and submit your old license, CDE certificate, and other documents if you will be revising your records.
Related: Implementing rules on how to register your SIM card is out.
5th Step: Verification and Payment
If you have to revise your records, you will make the changes at the desk. Once you've verified the changes, you can proceed to the payment window and pay the processing fee. Unless you have violations, fines, or revisions of records, the fee for both non-professional and professional licenses is P685.
6th Step: Biometrics and Photo
After paying the fees, wait for someone to call your name before proceeding to the Biometrics and Photo window. In this step, they will take your photo, register your fingertips, and ask if you want to have your signature updated.
Related: Apply and Register NBI Clearance Online, Purposes and Fees
7th Step: Releasing of license
Once they've printed your license, they will ask you to sign the license release log. If you don't have existing violations, your license should be valid for 10 years.
A tip to keep your 10-year validity on your next renewal: have your medical examination on the 3rd, 4th, and 7th year. You can check the stamps at the back of your official receipt on when to make that visit, so make sure you don't lose your receipt!