Hassle over lining up early at NBI clearance kiosk?
Recently, National Bureau of Investigation announced that application on their NBI clearance goes online. According to DOJ Secretary Leila de Lima that the system will continue to roll out and implement solutions.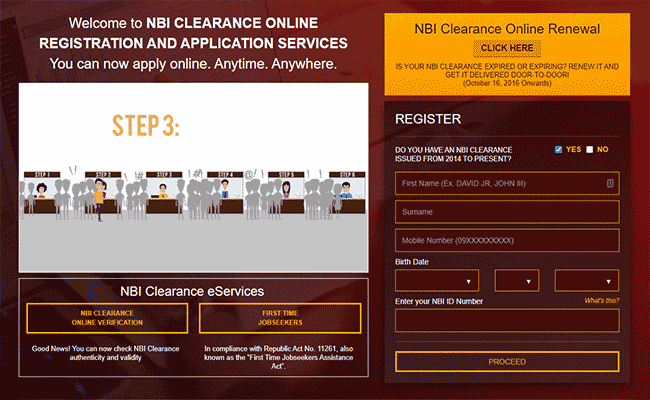 Here are the procedures to apply an NBI Clearance online:
1. Visit NBI Clearance Online Application page through www.doj.gov.ph/nbi or www.nbi.gov.ph.
2. Fill-up the application form online. Kindly provide correct information such as contact details on the said form. Make sure that you have valid ID needed to present when claiming the clearance.
Here are valid ID that need to authenticate your identity regarding the application:
READ: How to check your SSS contribution online
· Voter's ID
· Valid passport
· SSS ID
· GSIS UMID
· Postal ID
· Driver's License
· PRC License
· TIN ID
· School ID
· Philhealth ID
· Alien Certificate of Registration
· Senior Citizen
3. You will receive a confirmation email. Print out the said form with the assigned Registration Code. If you don't have a printer, jot down the Registration code or save the file as PDF.
4. Visit the nearest NBI Clearance Center in your area. Just present your Registration Code and 2 valid IDs (original with your signature) and pay the corresponding clearance fee.
5. You may proceed to Online Application Counter area which will you take your picture and undergo fingerprint biometrics.
6. For those you got 'No Hit', proceed to Releasing Section, for the printing and issuance of your NBI clearance certificate. If you receive a "With Hit' in your receipt, you will advised to come back on the release date. Then, proceed to Quality Control Section for interview, your clearance will be issued upon evaluation and cleared by the QC Interviewer.
RELATED: SSS benefits can now be withdrawn in UMID cards.
Here is the complete list of purpose and the corresponding fees that you would need to pay when obtaining your NBI clearance.
When you acquire an NBI Clearance, you would be required to pay some fees. The amount that you would settle depends on the purpose of obtaining your clearance.
As of present, NBI Clearance for Abroad Purposes and NBI Clearance for Local Purposes are two different things. Under those categories, there are also a lot of subcategories with slightly different fees.
When applying for your NBI Clearance, make sure to state your specific purpose so your document would not be deemed invalid when you submit it as a requirement for whatever reason.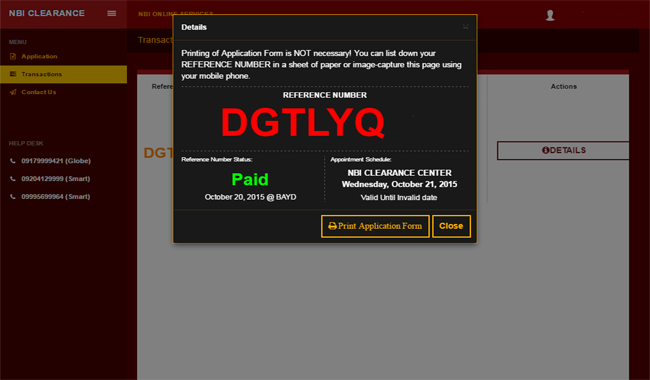 NBI Clearance Fees for Abroad Purposes
For Deportation 115
Immigration Requirement 115
Passport Renewal 115
School Visa 115
Self-Deportation 115
Travel Abroad 115
Travel Africa 115
Travel Asia 115
Travel Australia 115
Travel Canada 115
Travel Central America 115
Travel Diego Garcia 115
Travel Dubai 115
Travel Europe 115
Travel Hong Kong 115
Travel Libya 115
Travel Micronesia 115
Travel Middle East 115
Travel New Zealand 115
Travel North America 115
Travel Palau 115
Travel Papua New Guinea 115
Travel Qatar 115
Travel Saipan 115
Travel Singapore 115
Travel South America 115
Travel Taiwan 115
Travel USA 115
VISA Australia 115
VISA Canada 115
VISA China 115
VISA New Zealand 115
VISA Seaman 115
VISA Seawoman 115
VISA USA 115
NBI Clearance Fees for Local Purposes
ACR Requirement 415
Adoption 165
BID Requirement 115
Business Requirement 165
CA Requirement 115
Cancellation of ACR 415
Change of Gender 115
Change of Name 165
Correction of Birthdate 115
DOT Requirement 115
Enlistment AFP 115
Enlistment PNP 115
Firearms License 165
For Probation 115
For Promotion 115
ID Purposes 115
Lateral Entry 115
Local Employment 115
LTO Requirement 115
Marriage Requirement 115
Naturalization 415
NFA Requirement 165
NSO Requirement 115
NTC Requirement 165
Other Requirement 115
Permit to Carry Firearm 165
PNP Requirement 115
POEA Requirement 165
PRA Requirement 165
PRC Requirement 115
Repatriation 415
Seaman's Book 115
Seawoman's Book 115
SEC Requirement 165
Special Investor Residence Visa 165
SSS Requirement 415
Student VISA 415
Currently, there is a directive signed by Justice Secretary Vitaliano Aguirre II to make the NBI Clearance Multi-Purpose and make all fees standard, but as of the moment when you apply for a clearance, you would still be paying the above fees.
Also do not forget, that you would be charged Php25 for e-payment services when applying for online registration. Some payment centers also charge different amount of service fee.
RELATED:
How to Earn with Etoro, CopyTrading Filipino Popular Traders
16-year-old Student, became a millionaire from Online Selling Business