Low-budget travelers, rejoice! The most anticipated Piso Fare by Cebu Pacific is finally back!
The country's largest air carrier recently announced the offering of its popular piso fare promo. However, the company failed to expect the huge number of visitors interested in the promo which made the booking system page of their website crashed.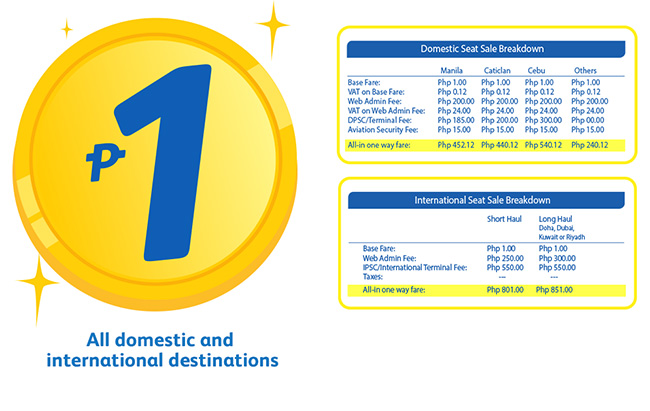 The two-day seat sale started on Friday and will end on Saturday. However, the seats are limited and on a first-come, first-serve basis. It is offered for all domestic and international flights. It even includes flight via it Manila-Sydney route.
You can book flights from June 10 to December 10, 2017.
Cebu Pacific clarified that the base fare of P1 would be paid with P150 web admin fee, 12% VAT, and terminal fees ranging from P200-315 for flights from Caticlan, Cebu and Manila airports. For international flights, there is P150 web admin fee for short-haul flights, P200 web admin fee for long haul flights and P550 international terminal fee for flights exiting Manila. Both international and domestic promo seat flights are inclusive of 7kg handcarry baggage allowance.
According to Cebu Pacific, "P1,620 Philippine travel tax and country-specific taxes ranging from P420-P2,185 are paid on of top quoted one-way fares."
The promo fares have limited availability and are non-refundable so pick your destination and schedule wisely. You could still re-schedule your flight, though. However, rebooking fees would cost you P1,500 for domestic flights, P2,300 for short haul international flights and P2,800 for long haul international flights and the fare difference. In other words, it would be more expensive than booking a regular flight.
Book you flights in their website link here: www.cebupacificair.com (Due to huge number of visitors website may be down for a moment.)