Due to the growing number of electronic bicycles or e-bikes in the country, the Land Transportation Office (LTO) is now impounding unlicensed e-bikes and penalizing unlicensed drivers.
Aside from the low cost of e-bikes, which ranges from Php 13,000 to Php 30,000, another key selling point that dealers use to sell these bikes is that you do not need to have a license to drive one.
Apparently, this claim isn't true as LTO clarifies that just like any other motor vehicle that drives through our roads, it is necessary to have e-bikes registered and the rider possessing the permits at all times while using it.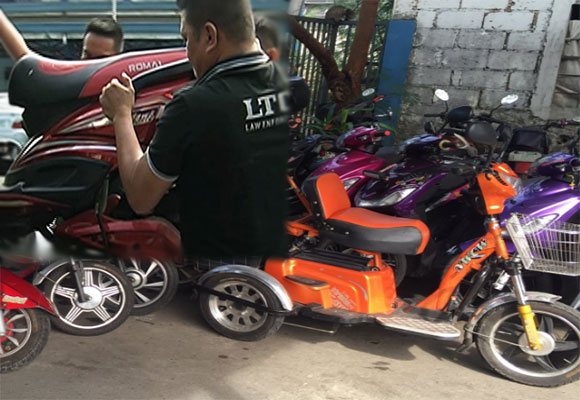 Just this week, the agency confiscated some unregistered e-bikes along EDSA, Commonwealth Avenue and Pasay City. LTO is also looking into having some talks with e-bike sellers to inform them of the protocol.
If you already own an e-bike, better register it as soon as possible. The requirements for securing an e-bike which falls under the category light electric vehicles as stated in LTO's AO-2006-01 are the following:
commercial invoice of the vehicle from the country of origin
BOC Certificate of Payment
Certificate of Stock Reported (CSR)
sales invoice of MV with sales evaluation from the regional office
PNP-TMG MV Clearance Certificate
a duly accomplished and approved Motor Vehicle Inspection Report (MVIR)
appropriate insurance certificate of cover
Taxpayer's Identification Number (TIN)
The next step is to proceed to the transaction counters and submit your complete documents to the Evaluator for evaluation and computation of fees.
READ: LTO to conduct Retesting for all Drivers in 2018
Afterwards, your vehicle will be inspected with the duly accomplished MVIR. After you passed the inspection, you would proceed to the cashier to pay necessary fees and obtain your Official Receipt.
Lastly, proceed to the Releasing Counter to obtain your Certificate of Registration, plates, stickers, and other requested documents.
Do not wait until your E-bike has been impounded. If you were caught driving without registration you need 10,000 pesos to redeem and will not be allowed to get student license permit for the whole year.