Since the rumors started, people had been wondering when will it start. They got excited when unconfirmed news about Telstra providing unlimited internet with better speed than local telecom companies will be within the reach of consumers.
Facebook users were excited to finally get the internet speed they had always wanted that they posted and reposted the news that Telstra might be venturing in the country.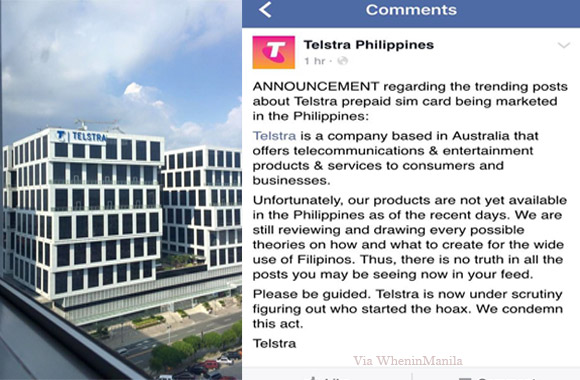 Australian telecommunications company is known to Australia and other countries they cater as it provides quality service when it comes to internet access and speed. In a country that fast behind worldwide when it comes to internet speed, such news will be a game changer.
It seems that the rumor started in a Facebook post, however, it is now hard to track down where it had originated. Though there is no official Telstra Facebook account for the Philippines, a Facebook page named Telstra Philippines posted that their products are still not available in the Philippines. The giant telco company have various products such as SIM cards, entertainment product and services for businesses and consumers.
In recent news, Telstra confirmed that there are discussions on a joint venture in the Philippines with San Miguel Corporation, however, there is still no finality with the issue. Since the talks are still on going and things are to be considered. It is not sure whether in will be a reality despite the Filipinos being excited about the said news.
Filipinos can only hope for the best as there is no assurance that the rumored news will really happen in the future. As of now, consumers will just have to make use of what the local telco's have to offer.