Asus remain to follow their design strategy from their popular Zenfone 4 to 6. But a new innovation happened to the lastest product Zenfone 2 ZE551ML,Yes it is pretty hard to distinguish this device to the recent Zenfone models. Zenfone 2 ZE551ML has the new design, Rear volume keys located at the back and also elegant, smooth metal brushed back case.
With a 5.5-inch display, the ZE551ML looks huge but still feels comfortable in the hands. It's *bigger than the G3 even though they have the same display size. The bezels are also *quite thick at 3.3mm, despite Asus' claims that it's already narrow.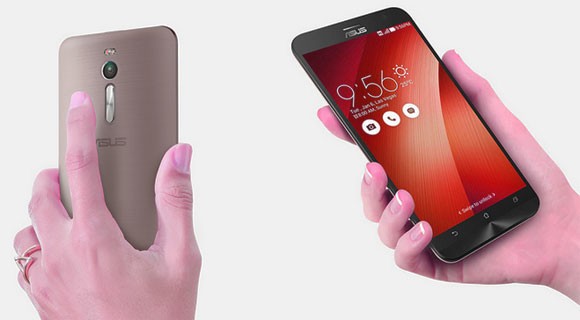 Plus the 5.5 inch display, yes it is huge but user friendly (I personally used a 5.5 inch display android phone and it's good in terms of gaming like NBA2K15 and Clash of clans). The Bezels (Camera lens) are little bit thick which is little bit a bulge at the back of the device, almost all brands have this feature.
Device size will not affect the user friendly experience you will have if you'll purchase this android phone. Compared to apple device, *Zenfone 2 ZE551ML has a curvy edge that will help you to have a better grip. Battery can be replaced but need to remove some screws compared to Alcatel POP C9 that has a built-in Battery. Device has Dual SIM system, 4G for the SIM 1 and 2F for SIM 2. SD Card supports up to 128GB.
Power button can be seen and use at the top part of the device, and the 3.5mm audio port beside it. The camera has a dual flash system that will emit light more compared to normal flash.
Texting in this phone can be a little hard if you have small hands. But to tell you frankly it will not affect your texting speed and tapping the screen.
The 5.5 inch IPS LCD capacitive display will bring pleasure watching videos, photos, movies, Device has HD resolution (1080p). Same as other phones, Asus Zenfone 2 ZE551ML have brightness settings, You can adjust it depending on your satisfaction, Plus this device have a Scratch resistant Corning Gorilla Glass 3. Corning Gorilla Glas reigns as one of the best LCD protection.
Loudspeaker is good, but not so perfect for music lovers since it doesn't have bass system. Factory earphones are nice. I suggest purchasing new headphones for great pleasure in terms of music. Below are the summary specifications of this device.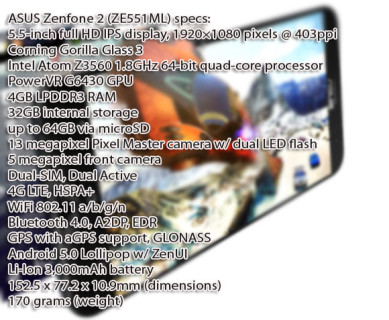 Asus Zenfone 2 ZE551ML comes with Android 5.0 Lollipop, Hoping it is upgradable to the new version.
***Some users are complaining about the battery consumption of this device almost the same thing that happened on the previous versions of Asus Zenfone. Have you tried using it? Share your experience below.