It is a common knowledge for everyone that the internet speed in the Philippines is one of the slowest and unreliable in the world. Despite the surge of the telecommunication industry, there seems no hope in increasing the speed of internet connectivity.
Due to this, the government has made improving telecommunications infrastructure to assist with the development of the internet in the Philippines on their priority list. The Department of Science and Technology launched the Philippine Open Internet Exchange (PHOpenIX) together with Philippine Internet Service Providers to interconnect through a common backbone or Internet Exchange Point (IX) for efficient infrastructure.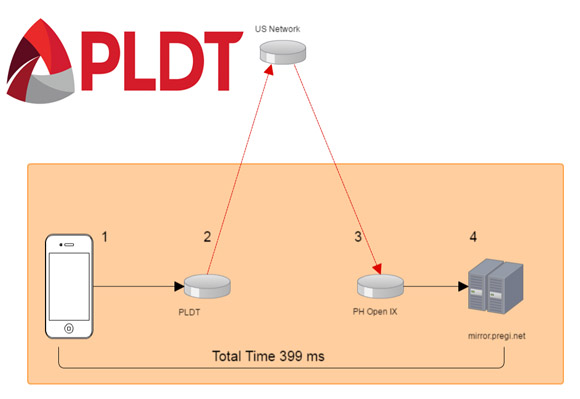 However, despite the groundbreaking project from DOST, PLDT Subscribers still experienced slow internet connection. This problem was pointed to 'user-abuse' or heavy use of data by subscribers or lack of cell sites or towers. But according to an investigation by A-Ar Andrew Concepcion, both were not the real reason.
Concepcion was fetching a file at DOST servers in PHOpenix using a PLDT connection. The connection was unexpectedly slow when he tested the Bandwidth and Signal Strength (BASS) analyzer. Since PLDT is directly linked to DOST via PHOpenix, it should have been faster, with the request taking just around 20 to 30 milliseconds.
As they dig deeper, they found out that instead of using direct link, the internet traffic is re-routed first to the United States then back to the Philippines. Imagine a pizza delivery guy going through another town before stopping to your house which is only blocks away. Instead of a fifteen-minute delivery, your cold pizza arrives at your door three hours later.
This is what was happening to the PLDT network. Instead of using the shortcut that DOST has since provided, the internet data goes as far as the United States before it reaches the user.  This action added 1200% more delay against the original (30 vs 399).
The thing is the action actually costs more than just taking the shortcut provided by DOST. Several theories why such occurrence was allowed by PLDT to happen were shared by Manila Bulletin;
The route configuration was done by a newbie.
The route configuration was done by a master who just had a bad day.
There is someone out to embarrass / "Sabo" PLDT top brass.
It's a "business decision".
"The PLDT Group fully supports DOST and its landmark Philippine OPEN IX initiative, and its vision to operate an internet exchange that will interconnect local internet and data and service providers," said PLDT EVP and ePLDT President and CEO Ernesto Alberto.
According to some users, the anomaly has been fixed and traceroute data now shows that PLDT is now directly routing their subscribers.
UPDATE: PLDT answers re-routing issue